shared from boardgaming.com and boardgamegeek.com
In the Magic game, you play the role of a planeswalker—a powerful wizard who fights other planeswalkers for glory, knowledge, and conquest. Your deck of cards represents all the weapons in your arsenal. It contains the spells you know and the creatures you can summon to fight for you. This is the grandfather of the collectible card game (or CCG) genre.
Cards are categorized as common, uncommon, rare, and mythic rare. Players collect cards and build decks out of their collection. Players build a deck of cards and duel against an opponent's deck. The first player to reduce his opponent to 0 life (or meet another set win condition) wins the game. Deck building is major part of the game. There are over 17,000 different cards from which to build your deck! Players randomly draw spells to see what they get and can play each turn. Although this limits your choices, there is a lot of strategy in how you play those spells.
A robust list of game mechanics, including intricate rules for reactive card play called "the stack," provide for rich tactics and tough choices each turn. Though traditionally a two-player duel, there are several casual and tournament formats to Magic that allow more players to play.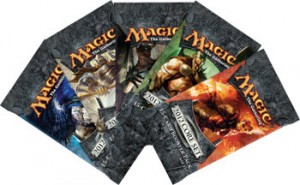 Trading card games like the Magic: The Gathering TCG combine collectible cards with a strategy game. You don't know what you'll get in a Magic booster pack.
You just start a collection and trade with other players to get the cards you want. The best part about a trading card game is that it's always changing. You design and build your own unique decks, and each Magic game you play is different. New Magic expansions are released a few times a year, and each new expansion brings new ways to stupefy and defeat your opponents.