by Laurenn McCubbin |
Judge this last year only on what created the biggest Internet furor, and you'd come away with the impression that 2014 had been a terrible year for female fans of comics. Marvel and DC made sadly familiar tone-deaf editorial choices, like an apple-bottomed Milo Manara cover on a Spider-Woman solo title that had been touted as part of Marvel's new female-friendly direction, and hiring a writer for DC's Wonder Woman who rejected the idea of the feminist icon being, y'know, afeminist. Even in indie and alt comics circles, there was a non-stop stream of bummers: popular male creators were accused of sexual harassment, and beloved alt comics figureheads released comics that were perceived as bitter and whinyabout female creators attracting an outsized amount of attention.
But, in fact, 2014 was a banner year for femme fans of the sequential arts. Women emerged as the largest growing segment in comics, and continue to be a formidable force that votes with its dollars. They enthusiastically support female creators both online and IRL at conventions and in-store signings, effectively spearheading a new PR movement for the books and creators that they love. Every article on the newly-announced Captain Marvel movie acknowledged that the (largely female) fandom of the Carol Corps was a big factor in the character's popularity, showcasing how a vocal fan base can move mountains. Tumblr exploded with content that reflected more than various opinions on favorite comic book characters and creators, charting the young women inspired to draw their own sequential stories.

The examples citing why the past 12 months were a bonanza for femme fans of the sequential arts are beyond numerous. As stated, there's going to be a Captain Marvel movie and oh! — a Wonder Woman as well! And the documentary She Makes Comics, funded on Kickstarter by fans of female creators, will be released in 2015! But it's not just movies that featured more kickass ladies; the ranks of female creators actually getting paid to make comics saw exponential growth in 2014. G. Willow Wilson's Ms. Marvel ascended as one of the best-selling books of 2014, Babs Tarr illustrated the well-received relaunch of Batgirl, Erica Henderson was announced as the artist on the new Unbeatable Squirrel Girl, Katie Cook joined as an artist on Spider-Verse, Marguerite Bennett and Stephanie Hans joined the main creative team on Angela, Corinna Bechko is co-writing Savage Hulk, Kate Perkins and Emanuela Lupacchino are on Supergirl, Genevieve Valentine is on Catwoman, and Becky Cloonan's terrific Gotham Academy is a welcome all-ages addition to the Batman mythos. Marvel and DC have noticed that women are interested in, and passionate about, supporting female creators.
Outside of the big two, publishers like BOOM! Studios and IDW welcomed a large number of female artists and writers, with Natasha Allegri, Shelli Paroline and Meredith Gran stewarding multiple Adventure Time titles, Grace Ellis and Noelle Stevenson debuting the terrific Lumberjanes, and powerhouse Kate Leth pulling writing duties on multiple titles, including Bravest Warriors and Edward Scissorhands.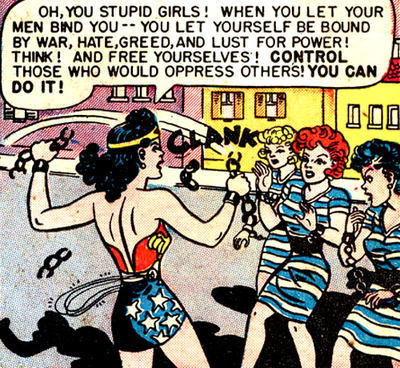 Leth is also making major new strides in another corner of the comic book spectrum with her women-in-comics-retailing gang, The Valkyries, which saw a rise to over 300 members this year. As a retailer, Leth understands the value in female fandom and wrote the following via email correspondence:
"We host Ladies Nights at our comic shop about twice a year and the customer base is so diverse, so much more so than I think it even was when I started working at my shop…I think that companies are really trying to market to women, and not in the sparkly-pink-easy-bake-oven sense, but in the smart-stories-written-by-and-for-women sense, is making a huge difference… It all kind of feels like a change in the wind, doesn't it? It can't be just me. Comics publishers are realizing, for the first time in awhile, just how massive and powerful their female fan base is."
On a larger scale, this attitude shift was confirmed recently by Marvel Editor-in-Chief Axel Alonso during an interview with Radhika Sanghani in The Telegraph. "We believe there's an audience of women out there who are hungry for this and we want to make sure they get it." Alonso stated, "This is affirmative action. This is capitalism."
This new growth doesn't downplay any of 2014's giant disappointments — writerJanelle Asselin received rape and death threats over her critique of a Teen Titanscover, Comic-Con International: San Diego refused to institute a specific, effective sexual harassment policy to protect attendees, and comics pros still exist who think that if you don't like comics in the right way, you shouldn't be a part of the community. But again — fandom has risen to the occasion with movements like We Are Comics, a Tumblr community with a mission statement of standing "in solidarity against harassment and abuse." And while SDCC may not be willing to step up when it comes to harassment, other conventions (like New York and Emerald City) are more than happy to do the right thing by instituting new policies that protect cosplayers and attendees.
So, I'm declaring 2014 the Year of Female Fandom. We've reached an event horizon for equality and representation, and there's no going back — the comics industry has finally realized that fangirls are eager and willing to pay with hard cash, and it would like some of it, please. Do I wish that publishers were making an ethical choice, rather than just chasing the almighty dollar? Sure, but hey — if I get to see Carol Danvers punch a dinosaur on the big screen, I'm cool with how she got there.
* * *
Laurenn McCubbin is a large-scale installation artist and illustrator. She's drawn comics and graphic novels for McSweeneys, Marvel Comics, Vertigo, Last Gasp and Dark Horse. She was the Art Director for Image Comics, the co-creator of the graphic novel RENT GIRL (with writer Michelle Tea) and she is currently an Associate Professor at the Columbus College of Art and Design.
via Paste Magazine